This book, written by Dr. Akram Malikzai, was released by the Faculty of Languages and Literature of Nangarhar University, and funded by the German Committee for Afghan Children in 2022. This book will be distributed to Afghan public and private universities, public libraries, research institutions, scientific centers, and academic institutions.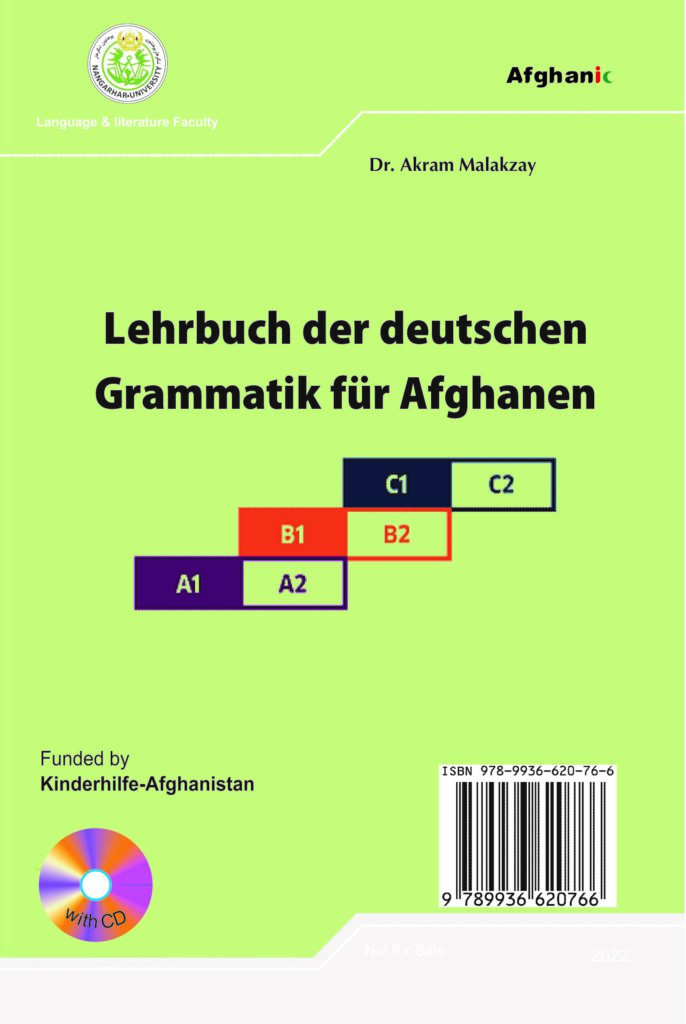 This work, which is the first explanation of the subject of learning German and on which the author has worked very hard, is about learning German and is written in Pashto. This book is crucial for Afghans who wish to learn German and would be of great assistance to anybody interested in learning the language.
This book's content contains a strategy for learning German, vocabulary, texts, a comprehensive dictionary, and essential explanations. Dr. Akram Malakzai, the book's author, offers the following comments on this book's content:
"This book uses an innovation in that the Pashto grammar linked to this section is explored and described in an approachable manner before the German grammar is explained. Once the Pashto portion is understood by the readers, the German language grammar is sought after. As soon as a topic is finished, the exercises under the accompanying topic are updated with the answers. Therefore, any reader may correctly understand every subject of the book based on this."
It is a great joy that the author of this book, Dr. Akram Malikzai, has been honored with a great state medal by the President of Germany. It should be said that Mr. Malikzai has also written a large German dictionary, which contains 25,000 words and 45,000 usage examples, and is printed in Afghanistan on 1016 pages.
You can download this book in pdf format from www.ecampus-afghanistan.org & https://afghanic.de/downloads/websites.