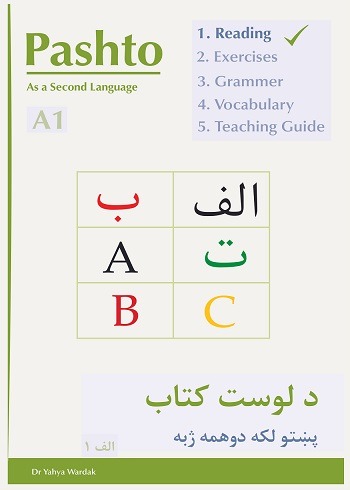 This textbook is compiled in such a way that it offers new and effective methods of learning the Pashto language. It is completely different from the old methods of learning this language.
This book is prepared in two languages, English and German to teach you Pashto language.
In this textbook, all the basic principles of Pashto language learning, including the alphabet and particular lessons for each letter of the Pashto language, have been effectively provided. In these lessons, a special color has been given to the use of each letter of the Pashto language. In the last part of each lesson, vocabulary has been prepared together with the English translation.
We did our best to make an excellent Pashto learning books series according to the Common European Framework of Reference for Languages.
The Common European Framework, accepted basis for language learning across Europe. This framework outlines the abilities a student needs to advance through each of the six common stages.
The Common European Framework (CEFR) of Reference gives you a detailed description of learner level by skill, in a language-neutral format. It is a useful reference document for school directors, syllabus designers, teachers, teacher trainers, and proficient learners.
The CEFR has three broad bands: A, B, and C. Very loosely, you can see these as similar to Beginner, Intermediate, and Advanced, though the CEFR levels are more precise than these terms (and call them Basic, Independent, and Proficient). Each of those bands is divided into two, giving us six main levels. These levels are A1, A2, B1, B2, C1, and C2.
This book (Pashto as a second language, Reading Book One) is prepared for A1 level Pashto language learners.
The CEFR Global A1 Scale
This scale includes the following three steps:
Can understand and use familiar everyday expressions and very basic phrases aimed at satisfying the needs of a concrete type.
Can introduce himself or herself and others and can ask and answer questions about personal details such as where he or she lives, people he or she knows, and things he or she has.
interacting in a simple way, provided the other person talks slowly and clearly and is prepared to help.
Therefore, we have started to collect and organize the pages, add some important parts, and print it as a Pashto reading textbook first volume. We are thinking that this will bring positive changes to our work on one side, and we will be able to collect the teaching materials in one place, which will be useful for students to learn Pashto easily.
We therefore came up with the idea of gathering these pages, organizing them, and adding some other crucial components. As a result, they were prepared and printed in several parts, including Pashto as a Second Language, the first and second volumes of the reading book, the exercise book, a grammar book, and a teacher's guidebook. The teaching materials will be gathered in one place, which will make our job easier, but it will also be helpful for those learning the language. This is the first volume of the Pashto reading book in this series. The second volume of the reading book is now being prepared; once finished, it will be printed and made accessible for use.
The necessary and fundamental Pashto teaching materials for the language's primary students have been compiled in this book, and an effort has been made to make the content of this work as simple, straightforward, and fluent to acquire as possible.
You can get films, audio files, reading, writing and practice books along with other teaching materials in our classes. To participate in this program, contact us or register for free through the www.afghancampus.de website.
We hope that this series on Pashto will be interesting not only for Afghan children who are living in foreign countries but also for foreigners who want to learn Pashto.
With thanks Yahya Wardak, Bonn, Germany, 2023
You can get this book from Amazon from the the following link:
Amazon
Wo: Afghanic e.V. Justus-von-Liebig-Str. 24. 53121 Bonn (Dransdorf)
Tel 0228 –85031347, Mobil 0174 741 73 06, info@afghanic.de, www.afghanic.de